2016
Work plan "Fostering minority youth civic participation and involvement in decision-making process"
The minority youth participation and in civic life and decision-making process at local and regional level is an important indicator of democratic and inclusive society. Minority youth more excluded and need more competences, capacity and support to participate actively and influence decisions.
Aim and objectives
The work plan aims to foster civic participation and influence in decision-making process in local and regional level of minority young people, i.e. youth from underrepresented groups or with fewer opportunities: ethnic minorities, disabled people, migrants, woman, etc.
Objectives of the work plan
to explore realities and difficulties of minority youth participation and influence in decision-making processes in participating countries and to elaborate recommendations of engagement of young people;
to develop youth workers' skills and competences in the areas of citizenship, participation, leadership and programme development and to motivate and enable them to act as multipliers and implement follow-up activities on regional/local level;
to nurture youth sense of civic responsibility and citizenship;
to ensure practical actions implemented by minority youth in cooperation with local self-government and other structures in their localities;
to gather experience received during the project and to disseminate outcomes of the work plan.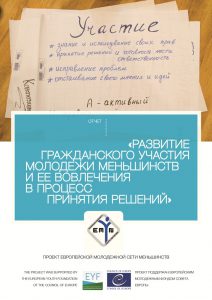 Activities both on international and regional/local levels were implemented:
1st step. International training seminar for youth workers and volunteers.
2nd step. Regional seminars conducted by participants of the training seminar with support of the work team.
3rd step. Follow-up activities by participants of the training seminar and regional seminars.
4th step. Evaluation seminar, summarizing of experience and dissemination of outcomes.